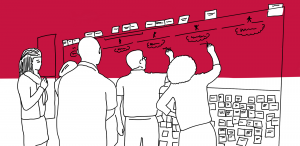 By Neema Iyer
Last week, we asked "What is Service Design?" and answered our question with "Service design is the process of taking a service and better tailoring it to the needs and wants of the end user, whether that's a client, customer or in the case of civic service design, the citizen. It could be improving an existing service, or creating a new service totally from scratch."
On December 5th, Pollicy and the Collaboration in International ICT Policy for Eastern and Southern Africa (CIPESA) brought back the civic technology community in Uganda, but this time, with a focus on data and design. As issues of data ownership, digital security, censorship become more pertinent in our society, so does the need to appropriately harness the benefits of big data. Through a series of interesting panel discussions, lightening talks and a hands-on design training, we took participants through a journey on how data can be used to revolutionize how citizens and governments interact for mutual benefit.
By Loyce Kyogabirwe|
The United Nations (UN) has recognised data as a key factor for achieving and monitoring sustainable development. Indeed, the push for open data that contributes to government transparency and accountability and promotes citizens' right to information and innovation through the Information and Communication Technology (ICT) sector continues to gain prominence globally, including in Africa.
In Uganda, the government is geared towards contributing to the emerging data revolution for sustainable development. Since 2016, the country has been party to the African Charter of Statistics and is also working to implement the UN Fundamental Principles of National Official Statistics as well as the Cape Town Action Plan. Uganda has also developed the National Development Plan and is party to regional development agendas such as Agenda 2063 and the East African Community's Vision 2050.