Access to Public Information in Uganda: Rhetoric or Reality?
Posted on October 13, 2017
Filed under Blog, News and tagged Access To Information, ICT and Governance, ICT and social accountability
By Loyce Kyogabirwe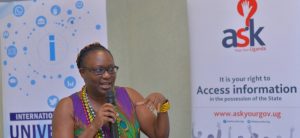 Norah Owaraga, a Ugandan researcher, recently narrated her experience on accessing government-held information in the country. She recounted a trip to Tororo district in eastern Uganda where she sought information on Tuberculosis prevalence in prisons. "I was told to go back to the prisons headquarters in Kampala (the capital) to get authorisation yet I had already received clearance from Uganda National Council for Science and Technology (UNCST) and the President's Office to access government information. Why did I have to travel back to Kampala when I had all the clearance?" asked Owaraga.
Her question was directed at Frank Baine, the spokesperson of Uganda Prisons, during a dialogue held in Kampala to commemorate the International Day for Universal Access to Information, which falls on September 28.
In his response, Baine quoted section 4.8.1(i) of the Code of Conduct and Ethics for Uganda Public Service, 2006 and the Official Secrets Act 1964, stating that public officials are custodians of information that comes into their possession during the course of duty. "Without due permission from an authorising officer, such information cannot be communicated," explained Baine. In Owaraga's case, he said the authorising officer was not within the UNCST or the President's office. Rather, it was the head of Uganda Prisons who had the mandate to authorise the release of the information.
Owaraga's experience mirrors the challenges faced by Ugandan citizens in realising the right to access information. The right of access to information is enshrined in article 41 of the Constitution of the Republic of Uganda, 1995 which provides that, "Every citizen has a right of access to information in the possession of the state or any other organ of the state except where the release of the information is likely to interfere with the security of the state or the right to the privacy of any other person". Uganda was among the first African countries to enact a right to information law, the Access to Information Act (ATIA), 2005 and later the Access to Information Regulations, 2011.
The ATIA is aimed at promoting transparency and accountability in all organs of the state by providing the public with timely, accessible and accurate information. Baine's response instead highlights that a culture of secrecy still persists, with limited proactive release of information by public agencies and denial of citizens' requests for information.
Other challenges that were raised during the dialogue include the high costs of accessing information, lack of knowledge of the provisions of ATIA among citizens and public officials, and the tedious procedures of requesting for information – all of which impact on the level of citizens' information requests.
Despite the challenges, the government has taken some steps to promote access to public information. Speaking at the dialogue, Moses Watasa, Commissioner of Information Dissemination at the Ministry of ICT and National Guidance, explained that the Ministry is working to sensitise all government ministries, departments and agencies (MDAs) on ATIA as well as strengthening communication departments within MDAs and local governments with the aim of improving information gathering and dissemination.
Furthermore, the ministry has developed a centralised government information web portal (www.gov.go.ug), which functions as a gateway to all other government websites. The portal is reinforced by the ministry's requirement for all MDAs to have a communications officer, functional website, a presence on social media and email addresses for officials to ensure public accessibility.
Watasa acknowledged that there has been a culture of secrecy among public officials further compounded by internal bureaucracies. He stated that the government was working to review archaic guidelines that restrict responsiveness or proactive disclosure by public officers.
Meanwhile, according to Watasa the government is also due to launch Open Government Sessions aimed at bridging the information gap between citizens and duty bearers. The sessions, which will be hosted monthly, will involve different MDAs interfacing with the public on functions, ongoing activities, budget allocations and expenditure and feedback. It is expected that the sessions will be broadcast live on TV and leverage social media platforms to allow remote participation.
However, it remains unclear when the archaic laws and guidelines will be reviewed and implemented to ease citizens' access of public information. It is only through improved access to information that there can be increased social accountability and government transparency towards improved service delivery and greater citizen participation in governance and democratic processes.
The dialogue on access to information in Uganda was organised by the Collaboration on International ICT Policy for East and Southern Africa (CIPESA) in partnership with the Ministry of ICT and National Guidance in the context of the ICT4Democracy in East Africa initiative's objective to engage stakeholders on supportive policies and practices for human rights and democratic governance in East Africa. It brought together 50 participants including public officials, policy makers, civil society, media, and scholars to reflect on the role of information in improving service delivery and accountability in Uganda.
Comments