New Forums to Use ICT for Social Accountability in Eastern Uganda
Posted on December 9, 2016
Filed under Blog, News and tagged CIPESA, SIDA, SPIDER, ToroDev, VSACs, WOUGNET
By Ashnah Kalemera|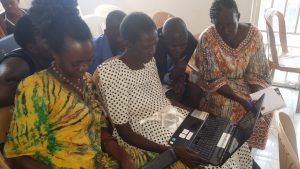 Under the ICT4Democracy in East Africa initiative, the Women of Uganda Network (WOUGNET) has initiated 12 forums in eastern Uganda, which will use various Information and Communication Technologies (ICT) tools, as well as offline methods, for social accountability.
The forums, each comprised of 12 members, were formed in the districts of Tororo and Busia in October 2016, expanding the network of WOUGNET's Voluntary Social Accountability Committees, or VSACs, who monitor and report on service delivery failures and mobilise citizens to participate in governance processes.
Members of the forums include representatives from Local Councils, as well as members of pre-existing community water, health, agriculture and education management committees. They also include representatives of youth, women, Persons With Disabilities (PWDs) and persons living with HIV/AIDs groups.
Over the course of 2016 and 2017,WOUGNET will train members of the newly formed forums, together with community radio workers and community-based organisations in the use of SMS for information dissemination, service delivery monitoring and reporting, citizen journalism, and how to participate in governance and human rights monitoring. Additional forums are expected to be initiated in Palisa district in the coming months.
WOUGNET's work with the forums will be complemented by the crowd mapping platform Ushahidi and deployment of the M-Omulimisa SMS platform. TheM-Omulimisa platform, launched in July 2016 initially in northern Uganda, enables users to report service delivery gaps to local authorities by sending a message to the short code 8228 with the sender's location registered on  Ushahidi.
The new forums join a network of others established by partners in the ICT4Democracy in East Africa consortium in western and northern Uganda to enable rural communities to monitor service delivery and participate in governance processes. In the western Uganda districts of Kabarole, Kyenjojo, Kyegegwa, Kamwenge and Ntorl find oko, Toro Development Network (ToroDev) setup and supports 15 Forums, including one comprised of journalists – the Rwenzori Journalists Forum.
Meanwhile in Lira and Oyam districts, Transparency International Uganda (TIU) set up and supports five forums to monitor health service delivery and report gaps via a toll free line.WOUGNET's newly set up forums in eastern Uganda build on the experiences of similar forums it set up in Apac, Kole, Oyam, Gulu and Amuru between 2012 and 2015.
In the12 months to May 2015, partners in the ICT4Democracy network trained more than 500 members of rural advocacy/accountability forums in using ICT tools to participate in governance processes, including monitoring service delivery standards.In the same period, these forums conducted monthly community dialogues (online and offline) to discuss service delivery challenges, and for engagements with duty bearers. At least 50 people attended each of the monthly dialogues between citizens and duty bearers.
WOUGNET is a member of the ICT4Democracy in East Africa Network whose work is supported by the Swedish International Development Cooperation Agency (Sida) and the Swedish Programme for ICT in Developing Regions (Spider). The network is coordinated by the Collaboration on International ICT Policy for East and Southern Africa (CIPESA).
Comments