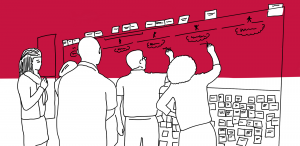 By Neema Iyer
Last week, we asked "What is Service Design?" and answered our question with "Service design is the process of taking a service and better tailoring it to the needs and wants of the end user, whether that's a client, customer or in the case of civic service design, the citizen. It could be improving an existing service, or creating a new service totally from scratch."
On December 5th, Pollicy and the Collaboration in International ICT Policy for Eastern and Southern Africa (CIPESA) brought back the civic technology community in Uganda, but this time, with a focus on data and design. As issues of data ownership, digital security, censorship become more pertinent in our society, so does the need to appropriately harness the benefits of big data. Through a series of interesting panel discussions, lightening talks and a hands-on design training, we took participants through a journey on how data can be used to revolutionize how citizens and governments interact for mutual benefit.
By Neema Iyer
As a taxpayer in Uganda, trying to access services that you are fully entitled to can be a serious headache. Take for example, the process of procuring a passport for the first time. Most of us have been there and might prefer to get a root canal procedure instead of repeating the process. You may say that these processes were designed without any direction. And you might be right!
By Daniel Mwesigwa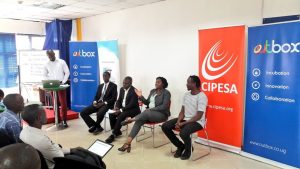 For many citizens across Africa, technology has not only bridged the communication gap between citizens and businesses, but also between governments and citizens. The potential of technology in enabling citizens to participate in governance processes, access public services, and engage with duty bearers has largely gained prominence due to the high internet penetration rates, increasing use of social media and a rise in civic consciousness.
At a recent civic tech showcase in Uganda, it emerged that, as in the rest of Africa, there was growing potential and enthusiasm in the country, with a wide variety of tools deployed by government, civil society and technologists to facilitate social accountability and citizen journalism. The challenge however, remains of creating awareness among citizens for wider adoption of the tools and collaboration among actors to ensure synergies and avoid duplication of efforts.
By Ashnah Kalemera |
As access to information and communication technologies (ICT) has continued to grow across Africa, so have technology-based initiatives that enable social accountability and the participation of citizens in promoting transparency and accountability in government operations.
In Kenya, Tanzania and Uganda, there is a growing number of government portals for public sector information (PSI) provision, responding to complaints about quality of public services or for corruption whistle-blowing, and generally making PSI more readily available, such as open data portals and budget information websites.