By Loyce Kyogabirwe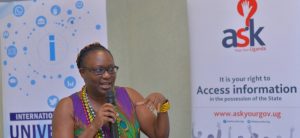 Norah Owaraga, a Ugandan researcher, recently narrated her experience on accessing government-held information in the country. She recounted a trip to Tororo district in eastern Uganda where she sought information on Tuberculosis prevalence in prisons. "I was told to go back to the prisons headquarters in Kampala (the capital) to get authorisation yet I had already received clearance from Uganda National Council for Science and Technology (UNCST) and the President's Office to access government information. Why did I have to travel back to Kampala when I had all the clearance?" asked Owaraga.
Her question was directed at Frank Baine, the spokesperson of Uganda Prisons, during a dialogue held in Kampala to commemorate the International Day for Universal Access to Information, which falls on September 28.
By John Walubengo | Have ICTs enhanced political participation, social accountability, public service delivery and citizen engagement in East Africa in the recent past?
These were the research questions behind a study commissioned by CIPESA, a regional think tank focusing on ICTs in East and Central Africa. In Kenya's case, the answers are found in its recently published ICTs in Governance report. Some, which make for interesting reading, are highlighted below.
By Varyanne Sika.
Our study on ICT and Governance in East Africa which is made possible by the generous support of SIDA and SPIDER, explores the ways in which ICT tools can/have successfully facilitated or hindered two way interaction between government and citizens towards reducing the cost of delivering public services, curbing corruption and increasing transparency and accountability. We are also looking into the innovative ICT initiatives that have facilitated the interaction between citizens and governments, as well as the (de)motivations for utilizing ICT tools among the various stakeholders (citizens, governments, civil society and the general public).
AN INTRODUCTION TO THE STUDY CAN BE FOUND HERE.
his study is a qualitative audit of ICT initiatives and tools used in governance in East Africa. We are particularly focussing on the following four areas of governance:
–       Access to information
–       Service Delivery by Government
–       Tracking Corruption
–       Civic Participation (transparency and accountability)
A DISCUSSION ON THE STUDY SITES CAN BE FOUND HERE.
Our study began with an exploratory study to gather data on which ICT tools and initiatives exist in East Africa and categorized them according to the stakeholder behind or driving the initiative, the purpose of the tool and the country in which the tool is found. This was done through crowdsourcing on social media and online spaces, and within the iHub networks as well as the ICT4Democracy East Africa Network. The matrix below contains the tools and initiatives we found in the exploratory study.
CLICK HERE FOR A PDF VERSION.
Note: These tools and initiatives were identified through crowdsourcing. We will share the final matrix of tools and initiatives that we will have identified in this study in our final report. If you know of more tools that we should look into, please share with us through this form.
The findings from the exploratory study informed our collection of primary data from the three East African Countries.
We are using semi-structured interviews to collect information from both CSOs and Government institutions or departments that are running some of the ICT tools and initiatives we identified both through crowdsourcing and desk research. In each country we aim to conduct at least 10 interviews with CSOs and at least 3 interviews with Government institutions. Further, we are conducting at least 2 focus group discussions of at least 8 participants each in each of the three East African countries.
Findings from this study will be disseminated to the East African governments, Civil Societies, developers and citizens. Recommendations based on the findings will be drawn and shared with relevant stakeholders in ICT for Governance in the region.
Having successfully conducted our first round of fieldwork in Uganda (Kampala, Apac and Lira), we will soon be sharing our preliminary findings from interviews and focus group discussions with Ugandan citizens.