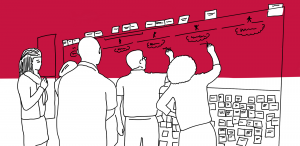 By Neema Iyer
Last week, we asked "What is Service Design?" and answered our question with "Service design is the process of taking a service and better tailoring it to the needs and wants of the end user, whether that's a client, customer or in the case of civic service design, the citizen. It could be improving an existing service, or creating a new service totally from scratch."
On December 5th, Pollicy and the Collaboration in International ICT Policy for Eastern and Southern Africa (CIPESA) brought back the civic technology community in Uganda, but this time, with a focus on data and design. As issues of data ownership, digital security, censorship become more pertinent in our society, so does the need to appropriately harness the benefits of big data. Through a series of interesting panel discussions, lightening talks and a hands-on design training, we took participants through a journey on how data can be used to revolutionize how citizens and governments interact for mutual benefit.
By Loyce Kyogabirwe|
The United Nations (UN) has recognised data as a key factor for achieving and monitoring sustainable development. Indeed, the push for open data that contributes to government transparency and accountability and promotes citizens' right to information and innovation through the Information and Communication Technology (ICT) sector continues to gain prominence globally, including in Africa.
In Uganda, the government is geared towards contributing to the emerging data revolution for sustainable development. Since 2016, the country has been party to the African Charter of Statistics and is also working to implement the UN Fundamental Principles of National Official Statistics as well as the Cape Town Action Plan. Uganda has also developed the National Development Plan and is party to regional development agendas such as Agenda 2063 and the East African Community's Vision 2050.
By Ashnah Kalemera
The push for open data that contributes to government transparency and accountability in service delivery and promotes citizens' right to information and innovation in the Information and Communication Technology (ICT) sector continues to gain prominence globally. Indeed, open data has been recognised as a key pillar of sustainable development. However, implementation of open data by African governments, civil society and the private sector is mostly in its infant stages, with some countries recording more success than others.
The demand and supply of open data in Africa is faced with numerous challenges including lack of complete data, authoritarian regimes, multiple fragmented actors, limited technical skills and capacity, inadequate infrastructure and low literacy rates.
On September 4-5, 2015, the government of Tanzania and the World Bank hosted the first Open Data Conference in Africa, that brought together the emerging open data community in Africa to showcase innovations and discuss opportunities and challenges to open data implementation.
ICT for Service Delivery in Northern Uganda
Monthly Voluntary Social Accountability Committee (VSAC) meetings continued in April, with prevailing bad governance and poor service delivery issues reported in the districts of Gulu, Amuru, Apac, Kore and Oyam and uploaded on the Women of Uganda Network (WOUGNET) Ushahidi platform.
Among the reports and follow up action:
Stolen drugs and rude staff at the Chegere Health Centre II: the issues were brought to the attention of the assistant district commissioner and as a result, formal warnings were issued to the centre staff.
At another centre, Kidilani Health Centre II, there were reports of staff shortages, bad maintenance, and poor staff housing. After the issues were elevated to the health centre's management, full time nurses are back on duty and health centre surroundings have been cleaned up. VSAC members are undertaking mobilisation exercises in the community to fundraise for improved centre staff housing.
Accountability for funds from the Northern Uganda Social Action Fund (NUSAF) for constructing of teachers' houses in Tar Ogali parish was also raised in the area's VSAC meeting. Committee members followed-up with the school management and were given assurances that the construction work would soon be underway.
WOUGNET reports that the continued support of district and sub-county leaders, as well as CSOs, continues to encourage the work of VSACs.
Meanwhile, Transparency International (TI) Uganda has embarked on an awareness raising exercise for its toll free call centre which will enable citizens to log complaints about health service delivery in the region. Agreements have been reached with a number of health centres to allow for the painting of the toll free number on strategic public access points on the centre premises.
In Tanzania, the Commission for Human Rights and Good Governance (CHRAGG) in collaboration with Bessbrook International Ltd. of Tanzania completed the implementation of the SMS for Human Rights Management Information System. The system has been installed and is being tested in a working environment. User feedback and opinions are being collected on automated responses from the system.
However, the system has so far been unable to allow for multimedia messaging and content. CHRAGG and Bessbrook are working to rectify this. Full system deployment is pending an SMS short code provision from the Tanzania Communications Regulatory Authority and toll free services from leading telecos.

mGovernance in Kenya
During April, iHub Research conducted user-centred design workshops as a basis for strategising on building mobile governance applications from citizen users' perspective.
Activity planning for fieldwork to explore the conditions for successful mobile phone enabled governance across Kenya is also underway. Through its extensive grassroots based Human Rights Networks (HURINETS), the Kenya Human Rights Commission (KHRC) will assist iHub Research in choosing appropriate field sites across the country and facilitate interaction with local communities. iHub Research is also anticipating to engage Mzalendo in its research. The blog platform for holding leaders accountable and rating their work will offer feedback on the research questions to be included in the full data collection exercise.
Meanwhile, the Social Development Network (SODNET) has also agreed to share their raw data on Huduma to enrich iHub Research's work. iHub research will use these findings to identify their key thematic areas of focus based on feedback from the platform. Huduma is a mobile phone short code platform for Kenyan citizens to voice the difficulties they encounter in using public services.
iParticipate Uganda
The Collaboration on International ICT Policy in East and Southern Africa (CIPESA) published and disseminated a report entitled 'How ICT Tools are Promoting Civic Participation in Uganda'. The report illustrates how Information and Communication Technologies (ICT) are aiding citizen participation in Uganda, but also points to the challenges that need to be overcome for these technologies to have a wider impact on governance. Read the full report here.
CIPESA also finalised the Open Governance in Uganda study. The study sought to establish Uganda's readiness for open data, capture citizen's perceptions on open governance in Uganda as well as form a basis for advocating for increased government openness in Uganda. During the study, awareness about open government and its benefits was raised, highlighting an urgent need for open governance in Uganda. The reports produced will go toward CIPESA's wider campaigns in promoting open governance in Uganda and the use of ICTs for democratic governance.
In April, CIPESA represented Uganda at the Internet Society (ISOC)'s Global INET event in Geneva, Switzerland. Furthermore, CIPESA attended the Digital Migration Workshop for Southern and Eastern African Countries. Insights from the workshop are available here.
Other news
In April, the ICT4Democracy in East Africa network participated in the Stockholm Internet Forum that aimed to deepen discussions on how freedom and openness on the internet can promote social and economic development globally. Participants included media, civil society, academia, telecommunications, national and international development agencies. Organised by the Swedish Ministry of Foreign Affairs, the Internet Infrastructure Foundation and the Swedish International Development Cooperation Agency (Sida), the forum took place on April 18 – 19, 2012.
ICT for Human Rights and Democracy in Kenya
ICT for Service Delivery in Northern Uganda
SMS for Human Rights in Tanzania

ICT for Human Rights and Democracy in Kenya
The Kenya Human Rights Commission (KHRC) trained 22 grassroots-based Human Rights Network (HURINET) members in the use of ICT, especially social media, for monitoring and reporting human rights violations. Installation of three ICT platforms – bulk SMS facility, a civic action website and an intranet to engage the HURINETS – are currently underway and could be ready during April.
ICT for Service Delivery in Northern Uganda
In March, the monthly Voluntary Social Accountability Committee (VSAC) meetings to report on poor service delivery and bad governance continued in five districts in Northern Uganda. Committee members were trained on uploading incident reports to the Women of Uganda Network (WOUGNET) Ushahidi platform. Some of the reports received related to poor water supply in Gulu district; Bribery and 'ghost' beneficiaries of a government piggery farming program; problems affecting schools performance in Apac District; and poor quality of road construction.
Following last month's poor school governance reports (among them Boke Primary School in Apac district), VSAC members successfully lobbied the headmaster and Parents Teachers Association (PTA) chairman to hold a PTA meeting. Committee members also mobilised parents to put up temporary housing structures for two teachers and rental arrangements were made for a third teacher.
However, the work of the VSAC is facing a number of challenges. Whereas email accounts were opened for three committee members in Gulu district, others lack access to basic ICTs such as mobile phones. Support from local leaders is insufficient. In Toro Parish in Amuru district, a sub-county chief walked out of a meeting held to inquire about a government agricultural programme. The rainy season, which makes transportation difficult, and electricity blackouts, is also hindering the work of VSACs.
Meanwhile, in the health sector, health worker absenteeism persists. A visit by the Transparency International (TI) Uganda team to one health centre found that a staff arrival logbook installed by TI Uganda had gone missing as a means of destroying evidence. In Oyam district, government transfer of health workers without immediate replacements was found to hinder health service delivery.
The installation of a toll free call centre to enable citizens report absenteeism is due to be completed in April.
iParticipate Uganda
In March, the Collaboration on International Policy in East and Southern Africa (CIPESA) developed a citizen journalism and media training manual for planned trainings at its grassroots-based ICT for democracy and civic participation pilot centres (BROSDI, NUMEC and eKasese). The capacity building trainings are scheduled to take place during May 2012.
CIPESA also completed research to assess Uganda's readiness for open government data. The research was welcomed by all organisations interacted with. Draft reports of the state of open data readiness and the citizens' perceptions on open government in Uganda are available. This activity feeds well into CIPESA's wider project to catalyse the use of ICT in promoting citizen participation in democracy and governance. With the availability of open data, citizens will be able to monitor different government programmes, hence demanding for more accountability.
mGovernance in Kenya
iHub Research conducted a second mGovernance workshop to disseminate findings from the exploratory research and the Nairobi apps usability testing to spur discussion on a sustainable approach to their research. The workshop took on the same format as the one held last October. Participants from academia, civil society, developers and civil service recommended that iHub Research's study into the conditions for mobile as a tool for increased citizen participation in government and as a more effective public service method should be extended to regions beyond Nairobi, to marginalised communities and other stakeholders such as churches and NGOs.
Meanwhile, iHub Research attended the International Conference on Information and Communication Technologies and Development (ICTD 2012) in Atlanta, USA. Insights from the four-day conference are shared here: day 1, day 2, day 3 and day 4.
SMS for Human Rights in Tanzania
In partnership with Bessbrook International LTD of Tanzania, the Commission for Human Right and Good Governance (CRHAGG) has completed the development of its mobile phone based Complaints Handling Management Information System. The system has been installed and testing in a working environment is underway.
As a result of minor changes to the security requirements and specifications, additional security training for CHRAGG employees was conducted in March to build on February's capacity and awareness training seminar. CHRAGG is continuing efforts to partner with the Tanzanian Communication Regulatory Authority for an SMS short code provision and telecommunications service providers for toll free services.
CHRAGG has also embarked on an awareness raising campaign. The Commission has met with Tanzania's Constitutional, Legal and Public Administration Parliamentary Committee to discuss ways to target the youth. Discussions are also underway with the country's Legal Sectoral Reform Programme for funding to improve The Commission's now ageing ICT infrastructure. Furthermore, an invitation has been sent out to the President of Tanzania to be the guest of honour at the launch of SMS for human rights system later this year. The launch is due to coincide with global human rights day celebrations on December 10, 2012.
Information and Communications Technologies (ICT) could be a key enabler of open government in Africa, in the wake of the September 20, 2011 launch of the Open Government Partnership (OGP), a multilateral initiative that aims "to secure concrete commitments from governments to promote transparency, empower citizens, fight corruption, and harness new technologies to strengthen governance".
The African countries currently eligible to join the OGP are Kenya, Liberia, Ghana, South Africa, Tanzania, and Uganda – and of them, by September 20, 2011, only Tanzania and Uganda had not indicated their plans to join the OGP. These countries derived their eligibility from their "demonstrated commitment to open government" in the key areas of budget transparency, access to information, asset disclosure by politicians and officials, and citizen engagement.
An increasingly large number of people in Africa are accessing modern communication technologies such as the internet and mobile phones. Indeed, at the citizen-to-citizen level, a lot of conversations and actions are taking place via ICT. Many of these ICT-enabled interactions and discussions are empowering citizens, enhancing civic agency and promoting participation in various ways which democratic governments need to nurture.
In East Africa, more so in Kenya and Uganda, social media are hugely popular, and have been proved to be a great mobilising tool which open government promoters should promptly embrace. More generally, given the central role ICT can play in enabling the attainment of the key objectives of open government, Africa needs to enable more of its people to access mobile phones and the internet. And governments must take a lead in using ICT to improve openness, while also supporting civil society ICT-for-Open-Government initiatives.
Such initiatives, among others, include the Africa4All parliamentary initiative operational in Lesotho, Namibia, Tanzania and Uganda, which leverages on web 2.0 technologies to support collaboration and active engagement of MPs and citizens in the decision making process, and the East Africa ICT4Democracy programme that is working in Kenya, Tanzania and Uganda.
Corruption, poor service delivery and undemocratic governance survive on systems that keep information hidden from the public, and bureaucracies which place near-unfettered power into the hands of the few public officials that control this information. Becoming open would require the currently closed African governments to briskly get online in service provision and in pro-actively placing a wide array of information in the public domain.
Moreover, citizens need to be empowered to hold their leaders and public service institutions to account. The countries which have taken a lead in this area recognise that freedom of information represents the citizens' right to know; and that access to government information enhances public participation, while also enabling more robust scrutiny and discussion of government actions.
For Africa, passing and effecting progressive legislation that guarantees access to information is crucial. So is the need for public bodies to enter and respect citizens' charters. Besides, concerted efforts to create civic awareness and to enable citizens' active participation in fighting corruption and monitoring democracy will be crucial. And smartly embracing ICT would catalyse all these efforts.
CIPESA's September 2011 Briefing on Open Government in Africa, is available for download here.