Storify |
This International Women's Month, we reflect on what presently shapes women's participation in the online arena. On International Women's Day, 8 March, we hosted Akina Mama Wa Afrika, Women of Uganda Network (WOUGNET), Connecting Voices of Citizens (CVC) and the Ask Your Government (Uganda) online portal in an online Twitter chat during which we asked "What must change?" to enable a more inclusive online community which recognises gender equity.
See some highlights from the chat here
By Ashnah Kalemera|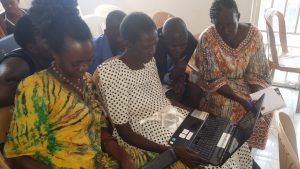 Under the ICT4Democracy in East Africa initiative, the Women of Uganda Network (WOUGNET) has initiated 12 forums in eastern Uganda, which will use various Information and Communication Technologies (ICT) tools, as well as offline methods, for social accountability.
The forums, each comprised of 12 members, were formed in the districts of Tororo and Busia in October 2016, expanding the network of WOUGNET's Voluntary Social Accountability Committees, or VSACs, who monitor and report on service delivery failures and mobilise citizens to participate in governance processes.
Members of the forums include representatives from Local Councils, as well as members of pre-existing community water, health, agriculture and education management committees. They also include representatives of youth, women, Persons With Disabilities (PWDs) and persons living with HIV/AIDs groups.
By Ashnah Kalemera | The Rwenzori sub-region of western Uganda, Information and Communication Technology (ICT) tools have been key tools in promoting public accountability and improved service delivery. Through an ICT "convergence approach" that combines SMS, radio and online polling, Toro Development Network (ToroDev) has for the past five years promoted information and knowledge sharing for citizens' engagement with their leaders on priority service delivery needs and concerns in the region. Read more
Established in 2011, ICT4Democracy in East Africa is a network of organisations working to promote democracy and human rights through Information and Communication Technologies (ICTs) in Kenya, Uganda and Tanzania. Across the three countries, partners are leveraging on mobile short message service (SMS), toll free call centre, FM radio, social media, crowd sourcing platforms and direct community engagement to implement projects that tackle issues such as corruption, service delivery, respect for human rights, freedom of expression and access to information.
The projects are driven by the shared vision of the immense potential that ICTs have in increasing citizens' participation in decision-making processes and strengthening democratisation.
The partner organisations are: the Collaboration on International ICT Policy for East and Southern Africa (CIPESA), Commission for Human Rights and Good Governance (CHRAGG), iHub Research, Kenya Human Rights Commission (KHRC), Toro Development Network, Transparency International Uganda and Women of Uganda Network (WOUGNET).
The network is supported by the Swedish International Development Cooperation Agency (Sida) and the Swedish Program for ICT in Developing Regions (Spider). CIPESA is the network regional coordinator.
Read more about the network in the profile publication here.
WOUGNET organized a panel on Gender and ICTs at the eLearning Africa Conference that took place at Speke Resort Hotel Munyonyo on 29th May 2014. The theme of the session was called "Managing Diversity and Equal Opportunities".
The main objective of the panel was to share experiences on how WOUGNET has enhanced learning among women and girls through use of ICTs, raise awareness on the need to implement gender responsive e-learning interventions and map out opportunities for women   to access and utilize ICTs in education.
The panel session comprised of speakers and presenters, shared experiences on how to enhance learning among women and girls through use of ICTs, raised awareness on the need to implement gender responsive learning interventions.
The  Speakers  included:
Gilbert Egwel from  Kubere Information Centre (KIC), Uganda who made a presentation on Enhancing Learning in the Education Sector in Northern Uganda: A Case of WOUGNET Experience in Using ICTs in Education of Women and Men
Mr. Ayub Kalema Golooba from  the Ministry of Education/Uganda Communication Commission (UCC), Uganda who  made presentation on Promoting Learning in Schools in Uganda Through ICTs: Benefits, Opportunities and Challenges
Ms. Martha Masibo Otim, Reach Out Wives of Soldiers´ Association (ROWOSA), Uganda,  who presented on Reaching Out to Wives of Soldiers Through Use of ICTs in Uganda: Case Study ROWOSA Experience
Ms. Goretti Zavuga Amuriat, Women of Uganda Network (WOUGNET), Gender and ICTs Youth Forums in Uganda: A Case of WOUGNET Experience in Reaching Out to Educate Boys´ and Girls´ Secondary Schools Through Use of ICTs.
Mr. Gilbert Egwel discussed how ICTs  have been used to equip women and  men  with knowledge  and skills  drawing from the WOUGNET  projects  experiences in Northern Uganda  using ICTs  to  obtain information and  knowledge on best practices in agriculture, agricultural inputs, and markets, using  ICTs  to report poor service  delivery and  Rural Information Centres (Kubere Information  Centre and Ribe-ber Rural Information Centre in Amuru district) to acquire  knowledge  and skills to apply in their activities.
Ms. Martha  Masibo  from ROWOSA  a member  of  WOUGNET  discussed how they  have reached  the  wives of soldiers and  their  children though  use ICTs,  in a  center that  was established at Bombo  town. The centre teaches CISCO in partnership with Makerere University School of Women and Gender Studies. ROWOSA appreciated WOUGNET to equip them  with   skills in ICTs that led to the set up of the ICT centre to teach others.
Mr. Ayub  Kalema, from Mengo  Senior School and active on the Ministry of Education/UCC school computers project,  and who has been  supporting WOUGNET  to build skills in ICTs among the boys and girls in secondary schools, explained the importance of ICT in education. He noted that ICT brings  live examples within classrooms,  supports  research, does  online teaching, enables networking and communication.
WOUGNET gave an example of the Gender and ICTs Youth Forums, which were being conducted to sensitize boys and girls on the need to include gender in ICTs and equipped the youth with practical sessions of ICTs. All presenters noted the need for gender sensitive e-learning intervention to support learning for boys and girls, men and women.
Compiled by Goretti Z. Amuriat
Program Manager, Gender and ICT Policy Advocacy
We are pleased to share some of our partner project results for the period June 2011 – December 2013. For purposes of communicating the results from these projects as well as The Swedish Programme for ICT in Developing Regions (Spider)'s own experience with working with catalytic seed funding modality, evaluations of all partner projects are under way.
Three partner  evaluations subjected to theoretical readings have been finalized and we are pleased to publish these reports for the purpose of furthering the growth of the field of ICT4D.
More reports are in the pipeline.
The Democratization process of the East African Countries still remains elusive as Civil and Political actors of Governments and top leadership remains major impediments in addressing the underlying problems to social evils such as corruption, poor governance, a declining press freedom and lack of respect for fundamental rights and freedom of its Citizens. The East African Countries of Uganda, Kenya and Tanzania is still bogged down by high levels of corruption, lack of transparency and accountability in the delivery of public service, poor civic participation by Citizens and lack of feedback mechanisms from leaders to citizens in addressing major concerns that directly affects the well-being of communities. This has created a situation whereby we live in a society in which people are less informed about government functions and systems typically breeding an environment in which corruption and poor service delivery can thrive.
However, Civil Society Organisations in East Africa have moved a step further in ensuring that information and communication technologies (ICTs) can be strategically used to improve access to public services, to increase the efficiency, transparency and accountability of government and political processes, as well as to empower citizens by enabling them to participate in government decision-making processes. At local levels, pro-poor ICT-based governance and public service delivery strategies and applications have been applied so as to contribute to poverty reduction and development within the larger context of achieving the Millennium Development Goals (MDGs).
In 2011, The East African ICT4Democracy Network was set up with funding from the Swedish Program for ICT Support in Developing Regions (Spider) and composed of 7 partners in Kenya, Tanzania and Uganda. Through the application of Information and communication technologies (ICTs), partners in the network continue to empower diverse communities in the region to hold their leaders accountable by monitoring service delivery and fighting corruption. The Network members using ICTs as a tool in the democratization process includes in Uganda, the Toro Development Network which operates in the Rwenzori regions of western Uganda.
Toro Development Network [ToroDev] implements a project that brings and converges the different ICT tools for increased public accountability and Civic participation in the region. The organization works and empowers journalist, Government leaders and stakeholders to ensure that they are more proactive in addressing the development concerns of the poor communities as well as catalyzing actions for a democratic engagement and accountability. The project according to its results, have trained many journalists, and registered successes in delivery of services through its approach of making an informed citizenry able to ask questions and leaders accountable to their electorates.
Transparency International in Uganda, uses ICTs in the Health Sector delivery in Northern Uganda, a community that has been regarded marginalized and also suffered the brunt of the LRA insurgency for more than a decade. This organization deploy a number of ICT tools including mobile phones, toll free lines and other strategies to ensure that the falling health in the communities of Northern Uganda and the country in general which is largely criticized is not on the brink of collapse but yet supporting the rural communities. They have trained health workers and empowered communities to be more alert to report cases of theft of drugs in health centers and absenteeism of health workers. They have also empowered leaders to be more accountable to its electorates always giving feedback and ensuring that there is public trust and confidence amongst the citizenzry.
Meanwhile, the Collaboration on International ICT Policy in Eastern and Southern Africa (CIPESA) through her iParticpate project conducts Research to understand the issues behind lack or for citizen participation using a number of ICT tools. Through a project on catalyzing civic participation and democracy monitoring, CIPESA has carried out needs assessments including surveys of knowledge attitudes and practices among individuals, citizens, groups and local governments regarding utility, effectiveness and security of using ICTs in citizen participation and monitoring of democracy
WOUGNET, an organization with specialty in ICTs and Gender policy through its project ''Empowering local people and communities to monitor district service delivery'' critically addresses the inclusion of women in democratic processes through the application of ICTs. Technical and Democratic processes are in themselves inaccessible for women due to the culture and the gender structure in place. WOUGNET applied both methods and challenged them simultaneously. Ihub Research in Kenya through its project ''M-Governance: exploring conditions for successful water governance through use of mobile phones'' [m-Governance] in Kenya, illustrating further gains towards employing the use of mobile technology in Governance processes. The Commission on Human Rights and Good Governance [CHRAGG] in Tanzania have been conducting SMS for human Rights has brought its services closer to the people where Tanzanians can report and obtain feedback through a basic mobile phone.
Written by:
Moses Owiny_Facilitator for the East African ICT4Democracy Network [ICT4DemEA]
WOUGNET with financial support from the Swedish Program for ICT support to Developing Countries (Spider) conducted awareness raising meetings in the District of Tororo and Busia in Eastern Uganda from the 23rd -27th of September 2013. The awareness meetings was aimed at introducing the new project to the district and mapping stakeholders and partners to be involved in the Project.
The Senior Program Officer, Gender and ICT Policy Advocacy, Ms. Goretti Z. Amuriat met a number of District leaders including the Resident District Commissioner (RDC) and the Chief Administrative Officer of Busia, Mr. Okumu Christopher and briefed them about the SPIDER Upscale project in their offices last week. Mr. Okumu said that he believes that it will be one of the best projects in his district and since it is targeting mainly women, he is so happy about it and welcomes it to Busia
Meanwhile, the Resident District Commissioner, Tororo decried the state of Corruption and mismanagement of public resources in the district as well as poor active engagement of local people in holding their leaders accountable and welcomed the new project with open arms.
WOUGNET received financial support from Spider to implement projects aimed at promoting Citizen participation for improved social service deliveries through use of ICTs. This Project was originally piloted in Northern Uganda districts of Apac, Kole, Gulu, Oyam and Amuru/
The October Newsletter of the ICT4Democracy East Africa Network can now be downloaded HERE. This brochure covers the activities of the network partners and focuses on how they are leveraging different ICT platforms to enhance transparency and civic empowernment. The utilized technologies include crowd sourcing platforms like Ushahidi; social media platforms like YouTube, Facebook, and Twitter; and digital and traditional media like websites and radio.
Highlights in the newsletter include details of KHRC's human rights violations monitoring, CHRAGG's progress with the complaints handling system, iHub Research's MGovernance Field work update, TI Uganda's toll free line, a report on citizen journalism training by CIPESA and ToroDev and WOUGNET capacity building activities during the month of October.
ToroDev has started training rural women and youth leaders in the seven districts of the Rwenzori Region in using online tools to monitor service delivery. The maiden residential 2 days training involving ten participants was held on 16th – 17th of August, 2012 at ToroDev resource center in Fort Portal, Uganda. The training which is supported by ToroDev in partnership with SPIDER/Stockholm University was facilitated by Milton Aineruhanga from WOUGNET.
ToroDev will train 210 rural monitors and advocates in online/ Web 2.0 tools to collect, document and disseminate online public accountability for improved serviced delivery issues. They will particularly oriented on how to interact with the "Ushahidi" online platform and other relevant open-source software. The monitors were also trained in online social media tools, human rights, governance and democratic engagement.
The monitors were highly trained to be independent local citizens that will keep updating the community and project team at ToroDev about the status of service delivery and identifying communities own service delivery needs.
They will further go ahead to mobilize and encourage regular meetings and focus group discussions (FGDs) among the 14 Advocacy Forums in the region on issues of service delivery monitoring.
Rural Monitors will also advocate for quality and timely public accountability from local leaders.  They will use 11 radio stations in the Rwenzori region as a major tool for distributing/disseminating all the information accessed through online/internet and mobile phones.
This information will be converged on the FM radio stations as a way of sharing information with the rest of grass root citizens in the region, who may not necessarily have the skills and afford town or access internet based knowledge tools. The rural FM radio will be used a hub for the convergence of all ICT tools for effective service delivery monitoring in the Rwenzori Region.
Some of the sample articles posted by the rural monitors on the Ushahidi platform.
http://wougnet.org/ushahidi/reports/view/59
http://wougnet.org/ushahidi/reports/view/66
http://wougnet.org/ushahidi/reports/view/62
http://wougnet.org/ushahidi/reports/view/64
http://wougnet.org/ushahidi/reports/view/56
http://wougnet.org/ushahidi/reports/view/51
Documented by Solomon Akugizibwe